Our school district has been encouraging teachers to use the three-part lesson as often as possible. In case you haven't heard of it, the basic idea is to break the class period into three parts.

Part 1-The Opening: The time to get kids thinking about the objective for the day, often done using a warm-up or hook of some kind. This can also be the time when teachers introduce a new concept via mini-lesson.
Part 2-The Work Session: When the learning/practice/student work takes place.
Part 3-The Closing: When what we've done for the day is summarized, hopefully by the students.
All of this sounds great until you realize you've got minutes left on the clock & it's closing time!!! My solution? The Closing Cup!!!
Step 1
Get yourself a cup. One of these will do just fine:
Unless you have something more fancy, of course!!
Step 2
Find some popsicle sticks! I like the rainbow colored ones from my local Dollar Tree, but any kind will do.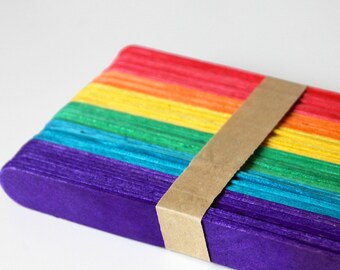 Like I said, Dollar Tree baby!

Step 3
>Quiz Each Other or Pair/Share
This one is easy. Have students pull out their notes/assignment from the day & quiz each other on the material.
>Test Question
Have students write down 1 potential test question from today's lesson.
>Ask-A-Question
Ask the kids an open ended question about today's lesson. It may pertain to the content directly or it might have to do with them as a student (such as "What part of today's lesson was easiest/hardest for you?")
>3-2-1
Have students write down (or verbally discuss) 3 things they learned, 2 questions they have, & 1 way it connects to real life.
>Pretend To Be An Adult
The students are suddenly
transformed
into adults. Why might they need to know the information from today?
>Artist
Draw a quick picture illustrating something you learned today.
>Your Parents Are Gonna Ask...
Have students write a quick 3-4 sentence summary answering every parents favorite question "So, what'd you learn today?"




Step 4
In the last 5-10 minutes of class (set a timer to remind you of the closing if you keep forgetting, or better yet, put a responsible student in charge of reminding you), give your students one minute to pack up. As soon as they're settled (again, I use a timer) find your CLOSING CUP, pick a stick & let the summarizing begin! If you happen to pick a closing requiring writing, it will help to have little slips of paper ready for students to use since you've usually already packed up. I will typically take up any written closings as a ticket-out-the-door.
Easy, simple, & you'll always be prepared to end your lesson the three-part way!
Happy closing!